×
This website uses cookies. By using the site you are agreeing to our Privacy Policy.
EXPO FARMA 2019
---
Dates: 3 Apr 2019 - 5 Apr 2019 (07:00 - 17:00)
Booth No.: 105
Website
Location: Mexico City, Mexico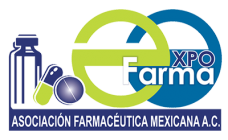 ---
2019 is here, and with this new year, there is also the opportunity to attend the best and most important Latin American Exhibition on Health, which the Mexican Pharmaceutical Association, A.C. has for you: EXPO FARMA 2019 which is celebrating its 48th Edition.
The WTC of the CDMX awaits you from April 3 to 5, where national and foreign visitors will have the opportunity to be in direct contact with the more than 8,000 Professionals of the Pharmaceutical, Chemical, Cosmetic, Food, Hospital Pharmacy, Pharmaceutical, Devices Doctors and Clinical Analysis.
Large Industry Suppliers will meet the most prestigious experts in the country in a single location.
We are waiting for you at EXPO FARMA 2019!